Description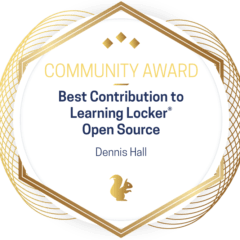 Own your own LearningLocker LRS!
Purchase this 1 year LRS server subscription and don't worry about how many statements, users or even organizations you use.
Even the Entrepeneur subscription lets you host your customers Organizational LRS data.
Send xAPI data from any xAPI enabled LMS to your own Private Server.
Customers already send data from LearnDash, LifterLMS, Moodle, and Forma LMS all at the same time and to the same Private LRS server.
Connect your xAPI plugin or application to it.
The only limit you have is on how much disk space you use.
NOTE: When you purchase your LRS Private Server, you will be asked to complete a form in your final checkout page.
Please be sure to complete that form as it will expedite the building of your server.
Once your server is built, you will be provided an IP Address to apply to your Private Server domain or sub-domain name.
Did you know a single TinCan e-learning project uploaded and used in your LMS can send hundreds of statements to the LRS?
STOP COUNTING STATEMENTS!
With most all other LRS services, you have a monthly limit of statements stored in the LRS.
With this package, it's your server and you can store as many statements as you want each month!
Your LearningLocker LRS comes with the following:
Learning Locker Version – you'll always get the latest version filled with incredible features.
SaaS LRS (all you need to do is enter your LRS endpoint and keys to connect)
Maintenance

99.9% up-time
Includes updates
Daily backups
Data export at end of subscription period upon request

Free Support included

Included 7/24 email support responses within 8 hours
Direct platform assistance
xAPI Mastermind online meetings, and
Training as required

50GB – 225GB storage

You need not care how many statements you write or how many users are added – it's your own server
You will be notified when your server reaches 90% disk storage used

Lightening fast

Built on the latest network architecture
SSD hard disk
AMD64 CPU server technologies

SSL – HTTPS certificates included
Sub-let your server to other organizations if you wish to use it as a multi-tenant system
Reporting (create custom reports for your organization, a group, or even a specific user)
Export data (create custom reports for your organization, a group, or even a specific user)
View user statements
Share live dashboards – reports (A shareable dashboard can be sent by email and bookmarked by your client)

Shareable dashboards are live data so one bookmarked link will update each time the dashboard is loaded
Check out this LearningLocker shared dashboard to see some of the possibilities just using my Demo/Development LRS.
Compare prices
The choice is obvious when you compare this product with any other Premium LRS!
LearningLocker Private Server (this product) Starting at $200.00 / year
Wax $1000.00 / year
Watershed $2100.00 / year
LearningLocker Enterprise Edition $1200.00 / year / organization
SCORMcloud (also known as RusticiEngine) $4080.00 / year
GrassBlade Cloud LRS (proprietary solution) starting at $144.00 / year, limited to 5000 statements + support fees / month, up to $7,992.00 / year, limited to 1,000,000 statements per month
GrassBlade LRS (proprietary solution) locally installed starting at $399.00 / year, limited to 250 learners, to $5,999.00 / year, limited to 5000 learners or the Enterprise solution – custom pricing above $5,999.00 / year