Description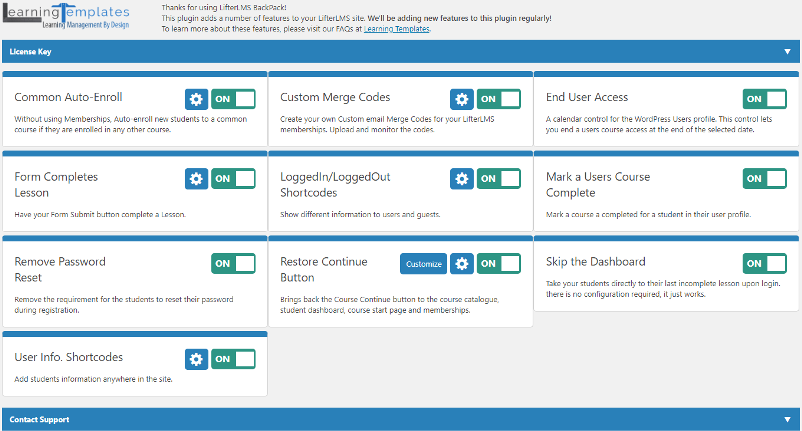 Your annual subscription comes with one license to be used in your staging site and your production site.
A growing collection of useful features, widgets, shortcodes and other design elements to make your Learning Management System and students experience better by design.
The objective of this plugin is to provide you with new features on a periodic basis.
The current features for this plugin are listed below. The features included in the current release are identified without version numbers. We add new features to this plugin on a regular basis so with each update, you will have new features to explore.
Each feature, widget or shortcode can be individually turned on or off.
In cases where the LifterLMS team choose to adopt an equivalent feature to any provided in LifterLMS BackPack, at that time you can simply turn off this feature in LifterLMS BackPack and use the native LifterLMS version.
If you use the LifterLMS version of a feature, widget, form or shortcode, and prefer to revert back to one provided in LifterLMS BackPack, no problem, just turn it on again, your settings will still be there.
The current version of LifterLMS BackPack is V1.3.0
BackPack current features that change the way LifterLMS works:
3rd. Party Registration: Add a separate billing information into the LifterLMS registration form so a 3rd. party can purchase a course or membership for the student.
Common Auto Enroll:

Without

using Memberships, Auto-enroll students to a common course when they enroll in any other course.
Custom Merge Codes: Create your own Custom Merge Codes. You can upload text stings, add a shortcode to emails and certificates, and monitor their usage in your Dashboard.
End User Access: A calendar control for the WordPress Users profile.

This control lets you end a users course access early on the selected date, and
If used while having the Upsell Enrollments feature enabled (no need to configure a membership), the user will be re-enrolled until the selected date.

Field Manager: Using our visual form Builder, you can create your custom fields via

Drag and Drop, you then 

Insert these fields into the:

Registration / Checkout form,
Edit Account form,
V1.4.0: as well as in Woocommerce Account and WordPress Users Profile forms via a checkbox selection in the plugin,
You can also include the information into LifterLMS Reports and Exports via a checkbox selection.

Forms Complete Lesson: Let your formidable form complete your lesson without the need for a Mark Complete button.

This feature will include Ninja forms, Gravity Forms and other WordPress form plugins in later updates.

LoggedIn/LoggedOut Shortcodes: Show different information to users and guests.

You can put these shortcodes anywhere in your site and courses to show different information to logged-in users and non-logged-in users.
What makes this different from the currently available Page builder options and existing LifterLMS options is that these can also be included inside the existing LifterLMS shortcodes while also letting you embed the information at a very granular level (not something you can do with existing page builder tools, or in LifterLMS today).

Mark User Completed: Mark a users course as completed from within their profile.
Mark User Incomplete: Mark a users course as incomplete from within their profile.
Member Comments: Filters comments by Membership Group.

This Ajax driven comment shortcode, uses the native the WordPress Discussion settings and the LifterLMS Membership restrictions to filter user comments by Membership group in Courses and Lessons.
Better than BBPress and BuddyPress

with this feature you can add multiple comment areas in your course or lesson, or just have one
you can turn on or off editor toolbars for each comment area, and
all user comments are presented as a live feed.

Remove Password Reset: Remove the requirement for the students to reset their password during registration.
Restore continue Button: Add the Course Continue button back into the Student Dashboard.
Skip the Dashboard: Takes the student directly to their last incomplete lesson upon login.

If they have not started their course(s), it will take them to the start page of their first course.

Upsell enrollments: Overcomes an issue in LifterLMS where if a user purchases a course as a standalone, then you upsell them to a membership with that course in it, their course will expire per the original access plan. Upsell enrollments keeps the user enrolled in the original course (beyond their original expiration) under the following conditions:

Students can buy the course standalone, then upgrade to the membership before the course expires, or
Students can purchase the membership which includes the course, or
Students can purchase the course, let it expire, then later purchase the membership and their course will in-expire, and
If used with the End User Access feature, you can extend a students access and they will be automatically re-enrolled until that date

User Info. Shortcodes: Add dynamic student information anywhere in the site.

V1.4.0: User Info. Shortcodes: Expose the user variables for use in uploaded e-learning when using LifterLMS xAPI.

Direct product support form built right into the plugin License and Support page.
Upcoming features that change the way LifterLMS works:
V1.6.0+: EU Checkout: Add advanced VAT integration to the LifterLMS Checkout.
V1.5.0: Lessons Preview: Add Tags to LifterLMS Lessons.

Add a reserved word so guest users can preview / use your lessons in isolation of the course and reports.
Present your lessons in an animated grid gallery customized using the WordPress Customizer controls.
Current Features that you visually customize using WordPress Customizer controls:
Restore Continue Button: Brings back the Course Continue button to the course grid in the student dashboard and memberships.
Style the Student Dashboard: Take control of you LifterLMS Student Dashboard styling.
Student Notes: Add Student Notes to your courses, lesson and quizzes and optionally communicate with your students.
Widgets: A set of LifterLMS widgets that include:

a Dynamic Widget Creator so you can create unlimited widgets specific to your course or lesson without using custom sidebars.
A Certificates widget that displays the Certificate Name.
An Achievements widget that displays the students Achievement badges.
A Resume Lesson widget that creates a button to take the student back to their last incomplete lesson from anywhere in your site.
A Related Courses widget that displays the courses (including featured images) in the same category.
If you own a copy of LifterLMS xAPI, you get a Related Competencies widget as well.

Voucher Login: Adds an advanced, mobile friendly Register, Login, Forgot Password form specific to Voucher based registrations.
Upcoming features that you visually customize using WordPress Customizer controls:
V1.4.0: Course Grid: Show your Sections and Lessons in a stylish expandable grid.
V1.4.0: Course Outline: Show your Sections and Lessons and highlight the Current Lesson.
V1.4.0: Course Sections Menu: Show the Sections of the current course.
V1.4.0: Current Section Outline: Show the Lessons of only your current section.
V1.4.0: LeaderBoard: Spark friendly competition by showing the top 10 students completing the most lessons in a course.
V1.4.0: Lesson Grid: Show your Lessons for the current Section in a stylish expandable grid.
V1.4.0: Lesson Navigation Shortcodes: Create customizable lesson navigation.
V1.4.0: Other Course Outline: Show a menu of the Sections of another course.
V1.5.0: Yotpo Social Reviews: Designed to let you receive and manage LifterLMS Course, and Woocommerce Product Review and star ratings.

Yotpo Social Reviews helps Woocommerce store owners with LifterLMS generate a ton of reviews for their products and courses.
Yotpo is the only solution which makes it easy to share your reviews automatically to your social networks to gain a boost in traffic and an increase in sales.
YotPo Social reviews styling is done in the YotPo website.
Watch this LifterLMS BackPack introductory video for V1.0.0
​
​
| | | | |
| --- | --- | --- | --- |
| BackPack V1.5.0 Features List | Stlying BackPack | 3rd. Party Registration | Course example |
| Lesson example | Another Course example | Another Lesson example | No more need to clone courses |
|  Replace reviews with YotPo | Lessons Preview | Form Completes Lesson | End a Users Access |
| Extend Student Notes | Fields builder | Add tags to Lessons | AJAX based comments |
| Fields main settings | Voucher Login settings | Up-sell Enrollments | Studnet Notes settingsRegistrati |
| Registration fields example | Fields Builder properties | Fields Builder interface | Fields Builder advanced properties |
| Fields added to Profile | Fields added to Reports | | |