Let your
manage themselves

Let your customers manage themselves!
Classrooms for LearnDash lets you provide student seats in your LearnDash LMS site!
Student seats are licensed for students only so your main groups leader(s) and child-group leaders will not use a seat.

Here are just of few of the key features Classrooms for LearnDash has to offer:

Watch this video playlist to understand many of the highlights!

Sell LearnDash group access using any payment system you want, you can use it with any membership system or use with LearnDash alone.
It's easy for your client to manage themselves in the most direct and simple way possible.

Your clients create their own classrooms, assign courses to them, create teachers and create students. Teachers manage their own students. Teachers can then add, edit or remove students from classrooms.
Teachers can also upload students in bulk.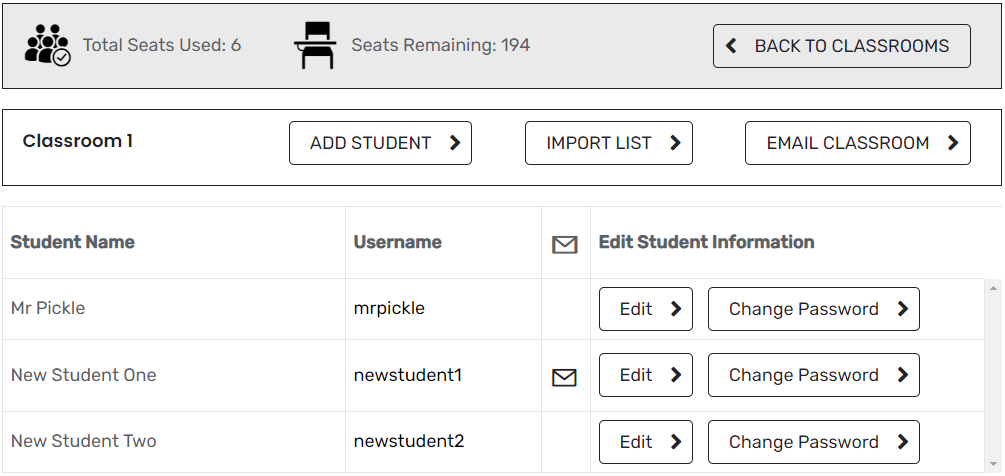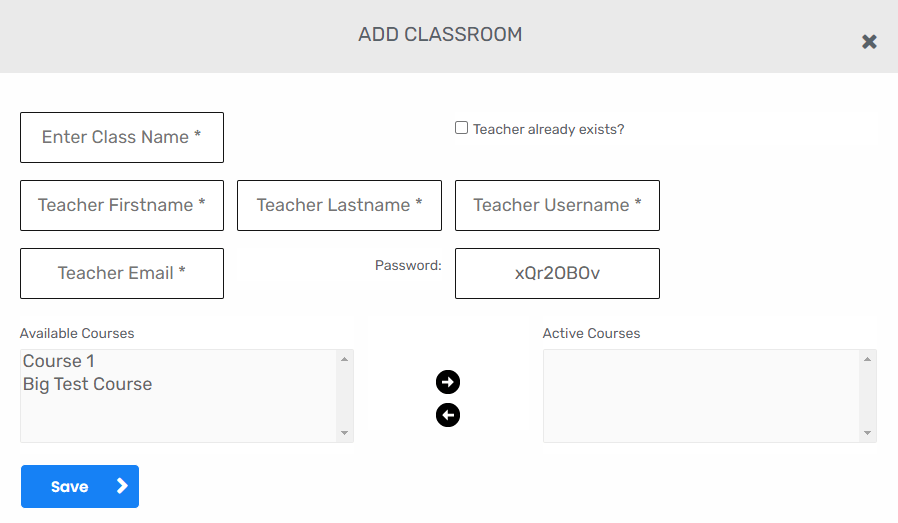 Add a classroom and create a teacher for it in one step.
If the teacher already exists, select them from a menu.
Use the Teacher Welcome email template to send them their invitation and password.
Add courses to the classroom in the same step.
Your clients delete their own classrooms.
Rules are applied to this process so they cannot delete a classroom unless teachers and students have been removed.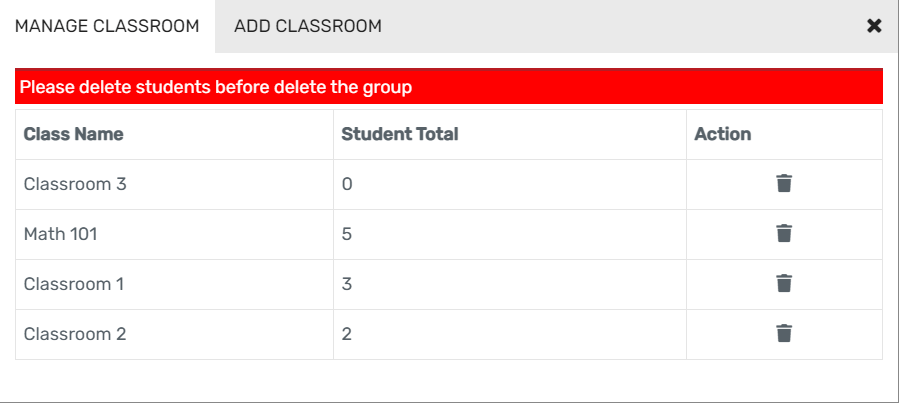 School level classrooms report.
The Head Master views all classrooms for their organizations and Teachers view the same report for only their classrooms.
Add other teachers to the classroom any time.
If the teacher exists, select them from a menu, else create them on the fly and your Teacher Welcome email will be sent to them.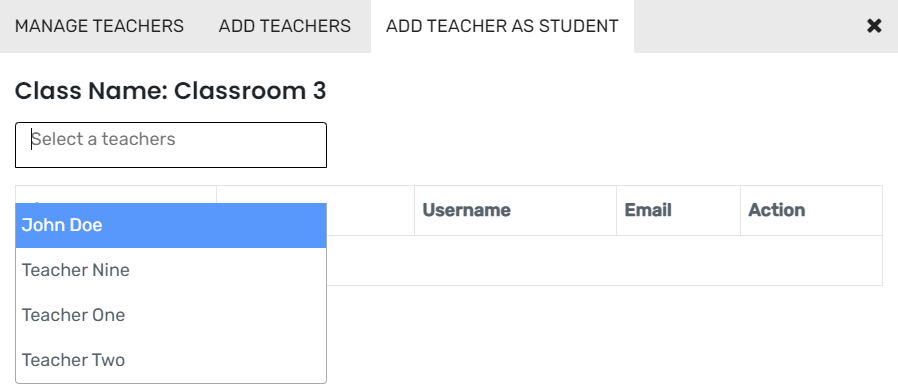 Existing teachers can also be added to classrooms as students.
Add or remove courses to and from classrooms on the fly.


Manage teachers in any classroom on the fly.
Teachers can be removed from a classroom and added to other classrooms with ease.
The HeadMaster can permanently delete teachers from the platform.
Teachers create their own Welcome email templates.
When they upload students or add them ad-hoc, this email will be sent to any student with an email address.
Emails sent through Classrooms for LearnDash do not need to use the LearnDash Notifications plugin.
Included in the email system, are a few handy email merge codes the teacher can use in the templates. Each teacher can create their own personal Welcome email template.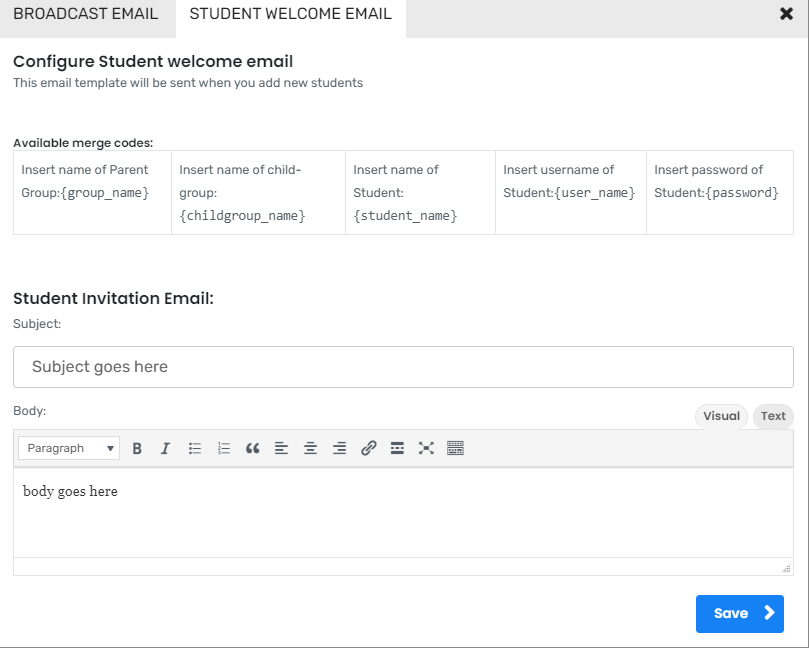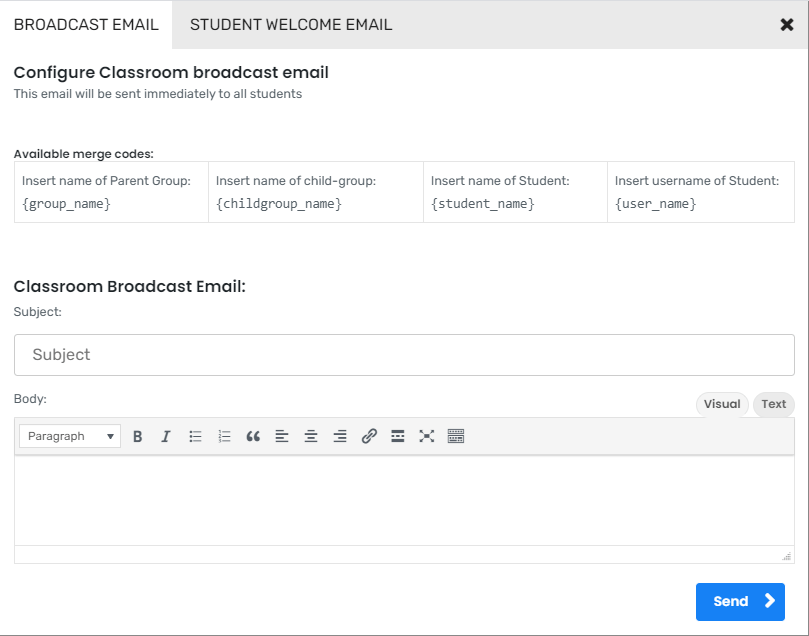 Teachers can send ad-hoc broadcast emails to all their students in the classroom. Ad-hoc emails will only be sent to student who have email addresses assigned.
Emails sent through Classrooms for LearnDash do not need to use the LearnDash Notifications plugin.
Included in the email system, are handy email merge codes the teacher can use in the ad-hoc emails. Ad-hoc emails are not saved as templates.
Teachers can monitor each students logins and their activities.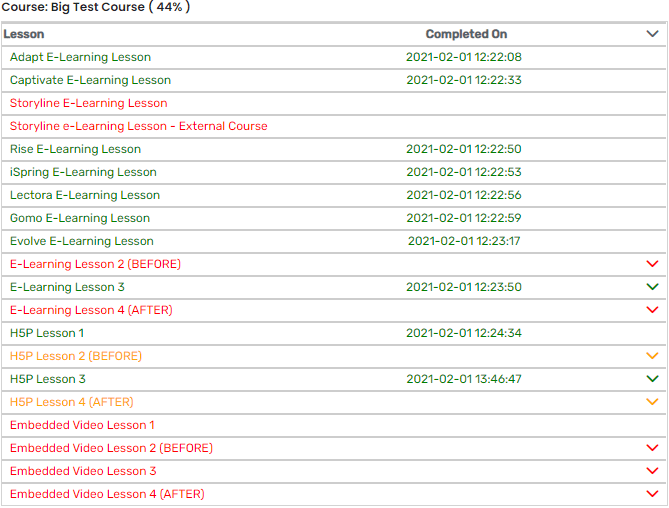 Visually clear reports offer detailed activity at a glance.
Teachers have front-end – one click assignment viewing and approval.

Use reports in isolation
School / Org report: [ld_classroom_primary_report]
Detailed report: [ld_classroom_report]
Convenient and flexible reporting.


View detailed LearnDash Quiz statistics.
Upload new students.
If students already exists, this upload will not change their records.
Upload students in compliance with FERPA (U.S.) regulations.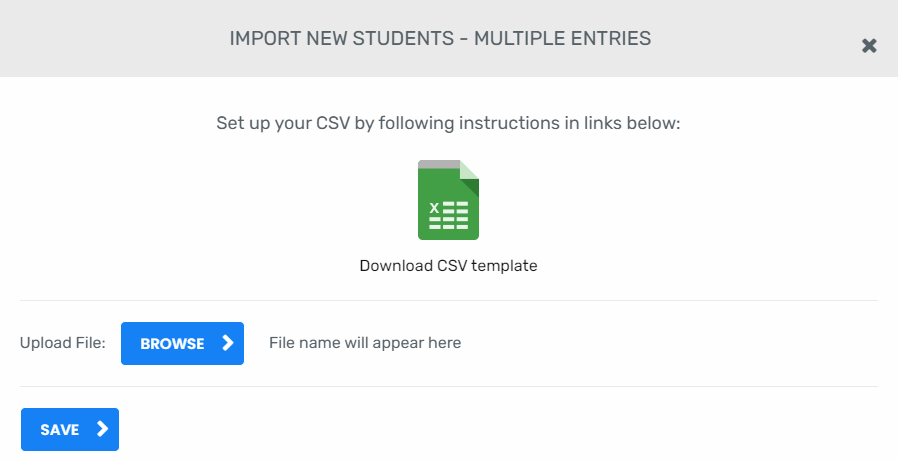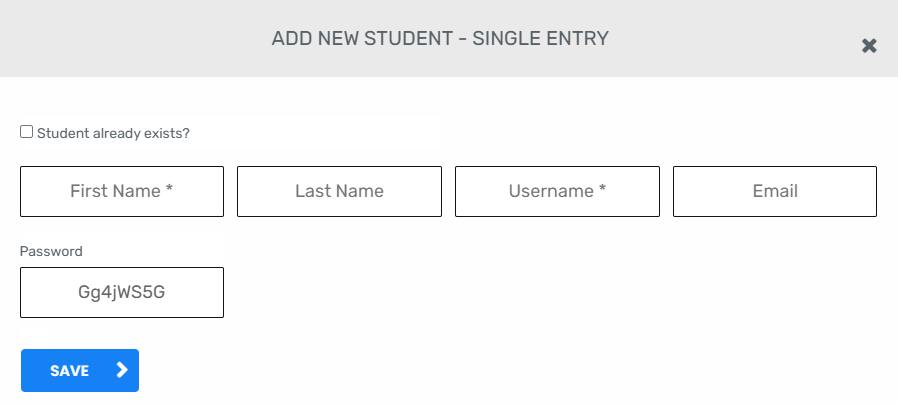 Add a new student ad-hoc.
If a student already exists, you can them to a classroom. If a student does not exist, you can create them.
Add students in compliance with FERPA (U.S.) regulations where last name and email are optional.
Change students passwords with ease directly within the classroom.


The Head Master can permanently delete classrooms, teachers and students.
Teachers cannot delete classrooms, teachers or students.
1 Site License
1 year of email and Zoom support

1 year of updates

1 year of new features
Frequently Asked Questions
COMING SOON!
V3.0.0: here's what's coming...
Dedicated report shortcodes.

The headmaster and teacher reports will have their own shortcodes so they can be used outside of the Classrooms page.
Linked Lessons, topics and quizzes.

Lessons topics and quizzes in the reports will be able to be clicked on and will open in a new tab.
Quiz statistics panel.

Clicking on the statistics icon in a report will open the LearnDash Quiz Statistics panel of that student.
Does this work with other groups or instructor plugins?
We've tested this along side UnCanny Groups. It compliments UnCanny products very well.
This plugin does not integrate BuddyPress groups.
We don't recommend any other instructor related plugins.
We've also tested this with the UpSell plugin.
Will this pick up all the groups and statuses I already have in my platform?
Yes, If you already use LearnDash groups, All your existing information and configurations will immediately be available.
Does this plugin add more data to my database?
Because Classrooms for LearnDash directly leverages LearnDash native groups, the added data in your database is minimal.
The plugin adds a license key field to your options table and then when the primary group leader(s) or any teachers create their personal Welcome Email template, that is added to their user meta data.
Classrooms for LearnDash does not add any further data to your database, therefore does not contribute to the infamous "database bloat" that many other plugins cause.
We're quite proud to tell you that when we develop our plugins to natively work with LearnDash, we design them all to add as little data as possible to your WordPress database.
Does this plugin require other LearnDash plugins to work?
Nope. You're good to go with LearnDash and Classrooms for LearnDash alone.
Can I change the labels of this product?
Every aspect of this product is able to be translated.
Even all the information in the plugins Settings page is translatable. The plugin is also se so if you already have WordPress translations or WordPress installed in your native language, it should pick up most words form that.
I like using Loco Translate to translate, but any translation plugin will work.
Why are all my courses available to students?
In your LearnDash course Settings, you've set each course to " Open ", they need to be set to " Free " or greater.
LearnDash always puts " Open " courses in everyone's profile.
Can I use this if I auto-enroll users into groups during purchase?
You  would not want to use this plugin if you auto-enroll students into groups because that process puts them all into the primary group.
This will show all users in all groups to all classrooms.
Will this plugin report xAPI or SCORM data?
Sorry, reporting xAPI data is out of scope in the reports of this plugin.
If you're interested in advanced LearnDash and xAPI reporting, we suggest checking out xAPI for LearnDash. Beyond it's many amazing question creation, custom tracking, visibility and reporting features, we've included an onboard reporting system that'll blow your mind!
As for SCORM, you may want to see if you can republish your SCORM courses to xAPI. Unfortunately, the SCORM standard reached end-of-life in November, 2017.
Is this plugin multi-site (WPMU) capable?
Yes. This plugin can be installed in a WPMU (WordPress Multi-site installation) setup.
Licensing is on a per-site basis for support purposes so we ask that you purchase a license for each site you will use it in.
How often is this product updated?
Depending on how complex the new features are, some will come out frequently while others will take more time. As with most product developers, we don't commit to specific dates for new features, but we do plan our activities and these features, taking an organized approach with our client projects and our product development.
Beyond new features, this plugin, as with all good developers plugins, will be updated when a bug is exposed, when we've discovered a vulnerability, when WordPress or LearnDash have been updated and this product needs to be updated to comply with those changes.
Why do I need to license this plugin?
Development of plugins takes a great deal of time. This is time we could spend working on projects for paying clients, but instead, we choose to help you out by providing what would normally be very costly software development at very reasonable prices in the form of our products.
In fact, when you purchase this product, you're not really paying for the development cost. These costs are already our sunk costs, so what you're actually doing is helping fund our efforts to:
keep the product optimally working with WordPress and LearnDash updates
add new features to the product, and
you're paying for any of our excellent support you may need going forward with the product.
Will this product continue working if I cancel my subscription?
Yes, this product will continue working if you cancel your subscription, however, you will no longer receive new features, bug fixes, product updates or support once cancelled. You will see the license key warning in your dashboard.
You can also cancel your subscriptions direction in our web site. no need to go to the payment system provider.
What is your refund policy if this does not suit my needs?
If you're having problems with the product, you'll find our support is exceptional and fast. If it's just not possible to correct and issue, or it's just not a good fit for you, we have a 30 day no questions asked return policy where you will receive a full refund.
Added new [lt_classroom] shortcode so the plugin can be used inside any page or post in your site.
Added new school and teacher level summary report for all classrooms.
Added new feature that lets a teacher also become a student.
Added new feature for headmaster to permanently delete classrooms, teachers and students in the web site where version 1.0.0 only removed them from the classroom. If a classroom contains teachers or students, a warning will stop you from deleting the classroom until they are removed.
Fixed issue where shortcode would not load in page builder.
Fixed issue where head master would get an Invalid Classroom message when using the shortcode.
Added new modal tab so head master can add teachers into classrooms as students.
Fixed session close issue
Updated reporting to compensate for undocumented code change in the LearnDash lesson function.